Tecnalia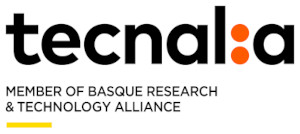 Tecnalia Research & Innovation is a private non profitable technological research centre, settled in Derio (Spain). TECNALIA operates in all the fields of today and tomorrow's industry: Industry and Transport, Information and Communication Technologies, Building, Energy and Environment, Innovation Systems and Health and Quality of Life. 
The project will be developed in the Industry and Transport Division that is focused on the design, manufacturing, maintenance and end-of-life of industrial products and services, for the improvement of its clients' competitiveness in the following strategic sectors: foundry and steelmaking, machine-tool, automotive, aerospace, aeronautics, railway, construction, de-manufacturing and food industry.
Specifically, the project will be developed by the Steelmaking Area with an extensive experience in the steel manufacturing process modelling and development of tools for improving the product quality/properties and reducing costs, time and environmental impact. It has also strong expertise in: the development of predictive systems based on mathematical   models and/or data driven models and complex systems optimization; data analysis using artificial intelligence to Identify, select and estimate the key process parameters and its most relevant features.
Main tasks in the project:
TECNALIA will work in the development and validation of a steel manufacturing plant-wide monitoring and control tool in order to reduce the number of surface and sub-surface defects at the final product:
Contribution to the specifications,  architecture definition and set of pre-processing tools.

Application of data mining techniques and development of the models (data riven and mathematical) for the steel use case.

Optimization at the sub-process and coordination level of the steel making process to minimize the defects in the finishing stage.

Coordinator of the dissemination and IPR protection activities.